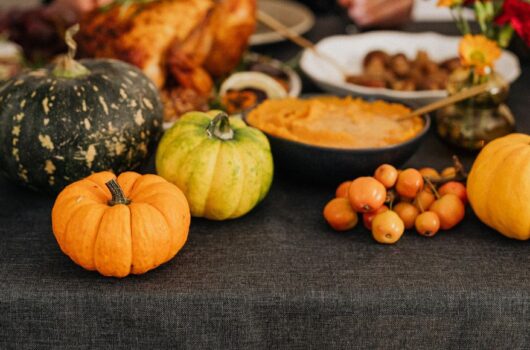 Below are the recipes mentioned in our Thanksgiving Traditions post – Bon Appétit!
Low-Sugar Crust-Less Pumpkin Pie from Mary Baker
Serves 8 | Per serving: 102 calories, 4.5g fat, 10.9g total carbs, 9g net carbs, 4.1g protein
Ingredients:
2 cups canned pumpkin, unsweetened
1½ cups fat free milk
½ cup Heart-Smart Bisquick Baking Mix
2 tablespoon reduced-calorie margarine
2½ teaspoon pumpkin pie spice
2 teaspoon vanilla extract
3/4c splenda
2 large eggs
Topping: ½ cup Lite Cool Whip
Combine all the ingredients (except the topping) and mix for 2 minutes until well combined
Spray a deep 9-inch pie pan with Pam, then pour the mixture into pan
Bake at 350*F for about 45 minutes, or until it sets
When pie is cooled, cut into 8 slices and top each piece with 1 tablespoon of Lite Cool Whip.
Pumpkin Mousse from Mary Baker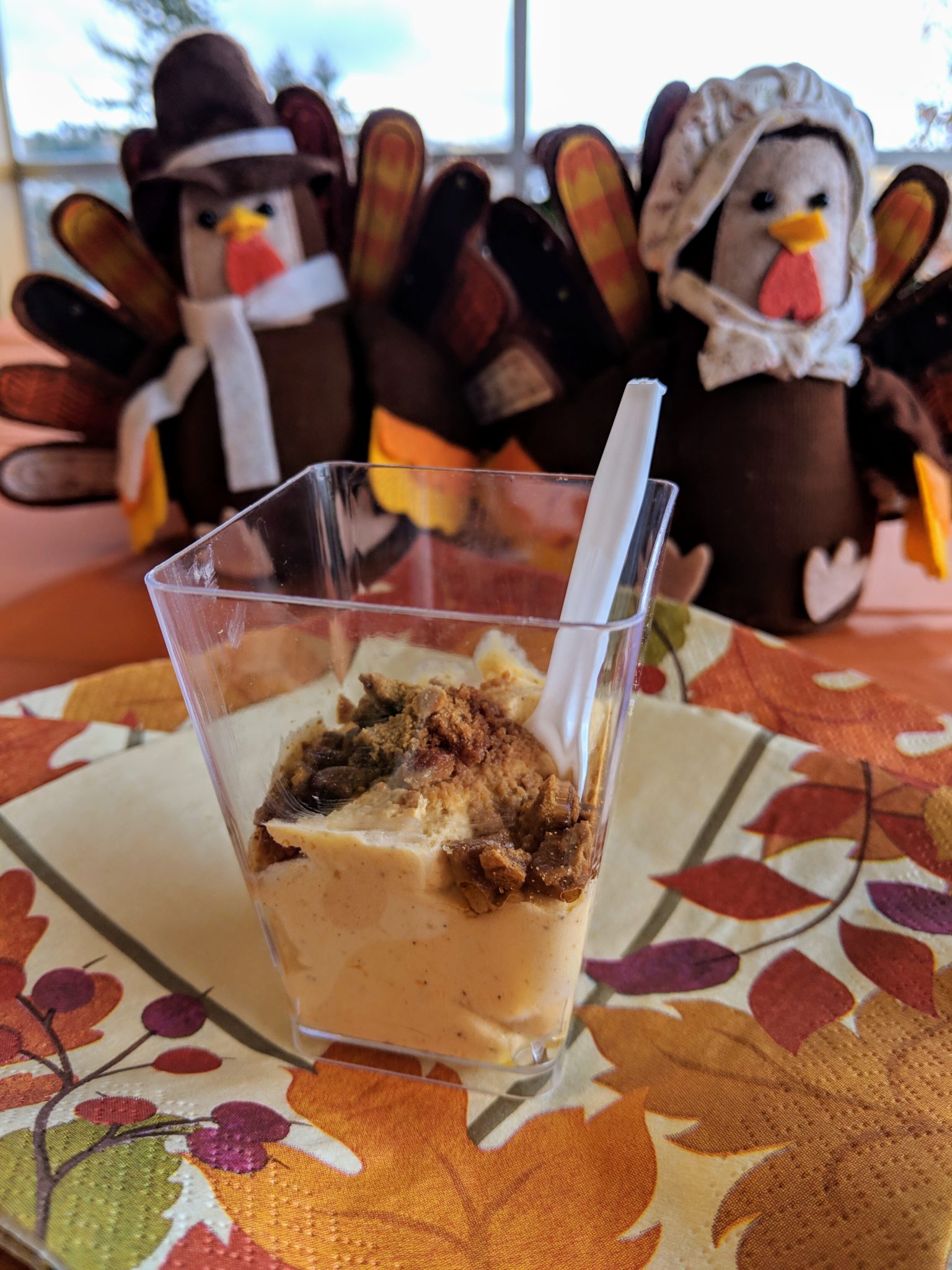 Serves 8 | Per serving: 80 calories, 1.1g fat, 14.8g total carbs, 13g net carbs, 2.4g protein
Ingredients:
2 small packages of sugar-free instant vanilla pudding
2 cups fat-free milk
1 cup canned pumpkin, unsweetened
½ pumpkin pie spice (add to your liking)
1 cup fat-free Cool-Whip
Blend pudding mixes with milk until there are no lumps.
Mix in the canned pumpkin and pumpkin pie spice
Gently fold in Cool-Whip and refrigerate for 1 hour
Garnish each serving with 1 crushed ginger snap cookie (optional, but highly recommend!)

Each additional cookie adds 30 calories and 6g carbs
Green Bean Casserole from Leilani Wenzen
Sauté 1 medium onion (sliced) and ½ cup butter over low-medium heat until onions begin to soften
Add the following to the onion-butter mixture:

1/3 cup flour
2 cups milk
2 teaspoons soy sauce
1 teaspoon salt
½ teaspoon pepper

Once everything is well combined, remove from heat and add the following:

1 cup shredded cheese
Green beans (3-4 cans or 1-2 bags of frozen, depending on number of guests)
8 oz of canned mushrooms of choice
Optional:

1-2 cans of sliced water chestnuts
Toasted slivered almonds sprinkled on top or to mix into casserole

Transfer into an oven-proof covered casserole dish and bake for 45 minutes at 350* F, then uncover and bake for another 5-10 minutes until cheese is bubbly and golden brown.
Turkey Cutlets with Cherry Sauce from Weight Watchers
Serves 4 | Per serving: 192 calories, 1g fat, 1g fiber, 32g protein
Ingredients:
1 pound skinless, boneless, turkey breast fillets
Salt and pepper to taste
3 shallots, finely chopped
¼ cup balsamic vinegar
1½ cups cherries, pitted and chopped
¼ cup cherry all-fruit spread
Sprinkle turkey with salt and pepper.
Spray large non-stick skillet with non-stick spray; heat. Add turkey and cook over medium-high heat.

Flip the turkey over once until both sides are browned, about 3 minutes per side. Transfer to plate and put aside

Add shallots to the same skillet and reduce heat to medium. Cook the shallots until they are translucent, stirring frequently to prevent burning.
To the shallots, add vinegar and stir until liquid has reduced, about 1-2 minutes.
Stir in the cherries and fruit spread, then reduce heat to low. Let the sauce simmer until cherries soften and sauce thickens slightly, about 2-3 minutes.
Return turkey and any juices from the turkey to the skillet; simmer until the turkey is cooked/heated through for about 1-2 minutes.