Our Medical Weight Loss program is based on a 4-phase system that typically lasts 14 weeks followed by life-time maintenance.
Participants will:
Have a complete medical exam and medication review by one of our providers (including Labs and ECG)
Receive state of the art diagnostic testing for body composition and metabolic rate
Participate in one-on-one sessions with a nutritionist, licensed mental health counselor, and weight loss coach.
We believe a clear and compassionate understanding of each patient's unique profile enables us to individualize their weight-loss program in a way that maximizes their chance for success.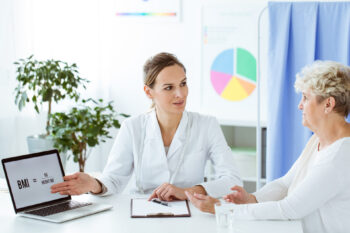 Schedule your consultation today
Contact Us
We know you have questions… and we have answers! Schedule a consultation to learn more about the HorizonView Health medical weight loss program to see if it may be right for you. You'll have an opportunity to learn more about the program, meet team members, tour our facility, and sample a variety of high quality nutritional supplements.

Click Here to contact our office

The HorizonView Health Medical Weight Loss program was developed by physicians, registered dietitians, and health professionals in the area of bariatric medicine to help you control your carbohydrate and caloric intake while eating the precise amount of protein to build and preserve muscle mass. Everything we do is evidence-based to promote a successful lifestyle change that is sustainable. HorizonView Health providers take each patient's health profile, life experience, and unique personality into account in order to optimize success.

HorizonView Health knows that we all need a variety of tools to keep us motivated and on track. In addition to highly trained health professionals, we offer a broad range of high quality certified bariatric Supplements and Products to help with your weight loss. Our program also includes state of the art diagnostic testing that allows participants to see the positive changes happening within their bodies as they work toward their weight loss goals. The DXA scanner is the gold standard for accuracy in measuring body composition and helps your Doctor ensure that you are losing fat while maintaining or gaining lean muscle. The ReeVue is a metabolic test that measures your resting energy expenditure. The results are used to calculate your precise caloric needs in order to lose weight at a safe but steady rate that is sustainable over time. Combining these tools with the latest research in Bariatric medical science is what sets our program apart from others you may have tried in the past.

A weight loss program carefully monitored by professionals in the field of bariatric medicine is essential to treating the underlying causes of weight gain. By analyzing each patient's individual health history, lab results, current medications, body composition and resting metabolic rate, our providers can design a program that will optimize results. Our providers may also suggest adding weight loss medications to a patient's individualized program if indicated. To further maximize results, patients receive behavior modification training through our licensed mental health counselors and in depth nutritional education appointments with our nutritionists. This unique combination of specialists empowers our patients to meet their goals and achieve the "Health-Life Balance" they desire.