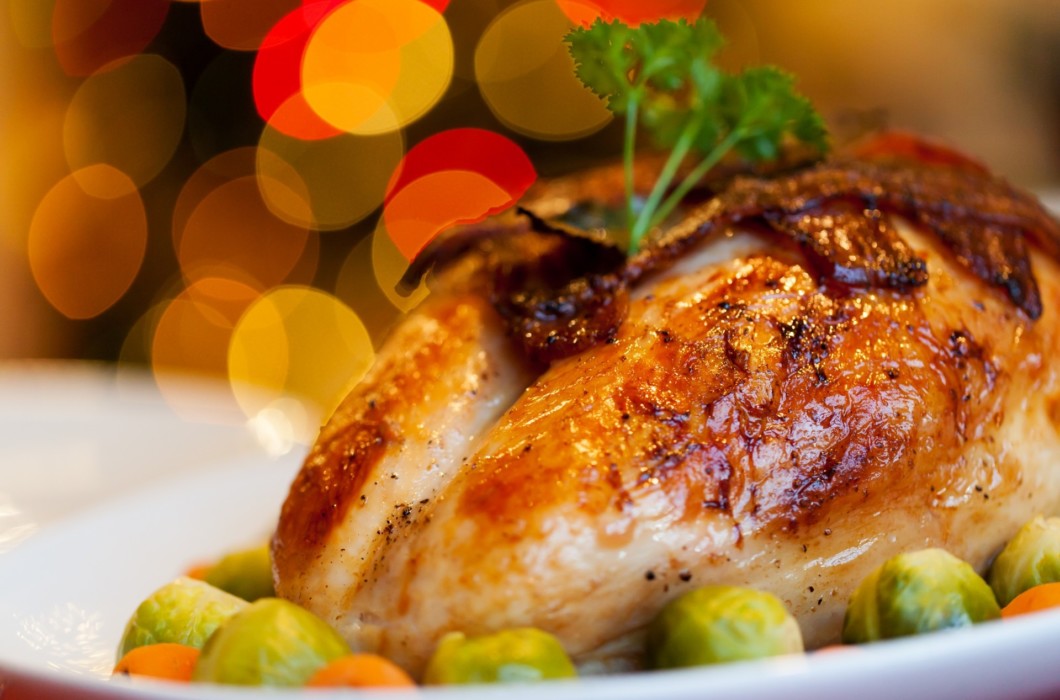 Thanksgiving is right around the corner! Are you excited and have it all planned out? Or are you stressed out because you didn't realize it's less than 2 weeks away until you wrote read this post? (Certain individuals thrive under pressure, right?)
Thankfully there's still time to pull it off (with minimal stress) with our staff's favorite tricks and short cuts:
From Sara
Mashed potatoes:

Peel and cut your potatoes the night before to save time. Submerge the potatoes in a pot of water overnight to keep them from browning.
Use a pot big enough for you to cook the potatoes in the next day. When you're ready to make the potatoes, just turn the stove on!

Turkey:

Use turkey breast instead of the whole turkey to help cut down cooking time
Brine turkey overnight (12-14 hours) in an ice water bath; add carrots, onions, salt and your other favorite seasonings to add flavor.

Brining the turkey will provide flavor and helps keep the meat juicy
From Jane
Low-carb appetizer:

Create a colorful veggie tray, loaded with variety of vegetables and pair them with low calorie dips or hummus.
Add some flair by cutting them with different blades, such as crinkle cut or in different shapes

Vegetable suggestions:

Jicama
Raw yams, cut with wavy slicer
Yellow, orange, red and green bell peppers (or the mini bell peppers)
Snap peas
Radishes
From Adriana
Dip ideas to go with Jane's colorful veggie tray:
I suggest using full fat plain/2% reduced-fat Greek yogurt for dips; the higher fat content will provide a creamier, satisfying taste and feel than fat-free yogurt.
Take any of your favorite dressing powder packets and make as directed, but sub sour cream or mayo with yogurt.

You can also sub out half of sour cream/mayo if you still prefer the taste but want less calories.

Seasoning rubs and mixes can also be used to flavor your dip in a pinch.
Hummus comes in many varieties and is super easy to make. Visit Sweet Peas and Saffron's website for variations of hummus!

Basic hummus recipe:

1 can of chick peas, drained (reserve the liquid)
2 tablespoons of bean liquid
2 tablespoons of sesame seeds
2 tablespoons of olive oil
2 garlic cloves, minced
½ teaspoon cumin
½ teaspoon ground coriander
Salt and pepper to taste
Juice of ½ lemon

In a food processor/powerful blender, blend together all the ingredients until smooth; scrape down the sides to fully incorporate
Add more bean liquid if the hummus is too thick; adjust as desired
Sheet Pan Thanksgiving Meal
I came across this recipe from Chungah and loved her concept! What is better than minimal dish washing and less fighting for oven time?
The great thing with any recipe, including this one, is adding your own flare. If you don't love or don't have an ingredient, swap it out or skip it (when appropriate). You can also increase or decrease ingredients, especially if you want leftovers! (Just be sure to adapt cooking times as needed.)
For example, Chungah's version of sheet pan Thanksgiving includes stuffing, turkey breast, sweet potatoes w/ marshmallows and Brussels sprouts.  I personally love savory sweet potatoes, so I would eliminate the marshmallows and do a quick garlic thyme mashed potato instead. I'm also not a fan of stuffing, so I would do a pan of roasted vegetables.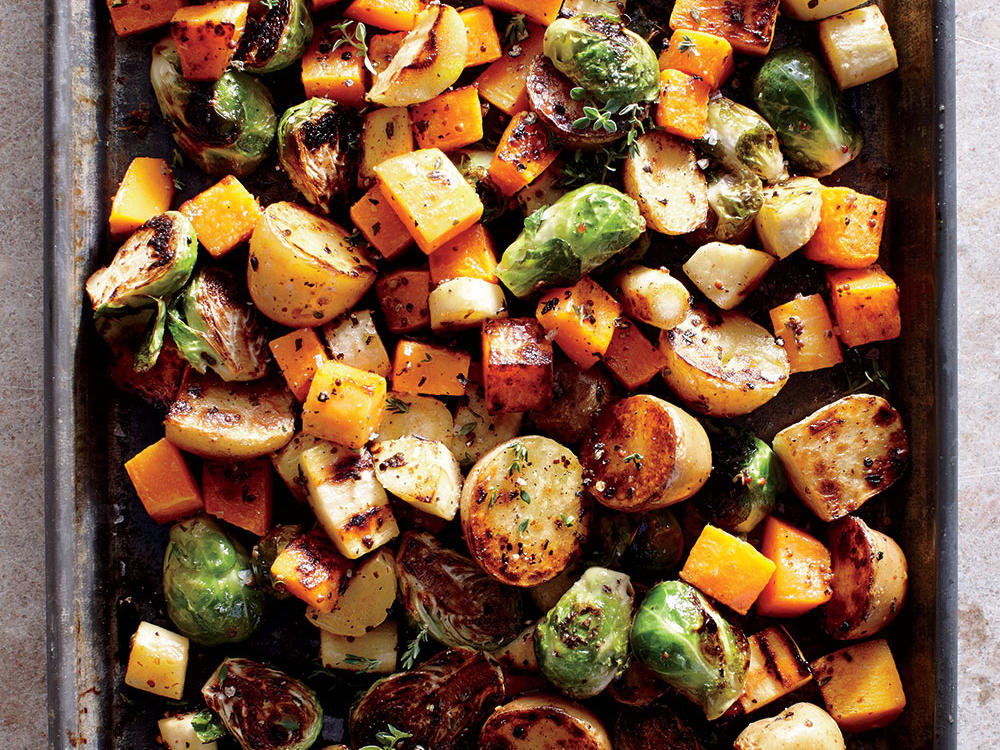 Shortcuts and Minimizing Stress
Turkey breast

As mentioned by Sara and the sheet pan meal, using turkey breast is a great way to still celebrate the traditional protein without the fuss, time and stress.

Another protein option are Cornish hens – these are more personal sized and can be enjoyed in the same way as turkey.
Prep ahead

Gather all the recipes and make sure all the ingredients are in check
If you have any dishes that can be reheated the day of Thanksgiving, make them 1-2 days ahead. By preparing 1-2 dishes each day, you can limit how much actual cooking needs to be done day of.

Schedule and prioritize
`It's okay to "cheat"!

Don't have time to make rolls? Buy them from your favorite bakery/grocery store and warm them up in the oven.
Hate the hassle of making mashed potatoes? Pre-made mashed potatoes can save you precious time. Place them in a crock pot, garnish with some fresh herbs, hide the packaging and your secret is safe!
Not enough time to cut up the vegetables for the appetizer? Buy a tray and rearrange it yourself. (Or leave it as is – no one will judge!)
Make it a potluck – have friends and family sign up to bring a dish.
If you have the budget, order the whole dinner. Whole Foods, Fred Meyers and Safeway have offered fully cooked meals in the past. Check with your local store for more details.
My last tip is this – the most overlooked detail of Thanksgiving is spending time with families and loved ones. The holiday isn't defined by the famous turkey and pumpkin pie. The day is defined by the various traditions and memories shared with each other, whether it's old or new. It doesn't always have to be on the fourth Thursday of November, nor does it have to be a formal sit-down dinner. (My brother decided to combine Halloween and Thanksgiving one year – it was quite delightful!) Thanksgiving can be about taking a hiking trip, giving back to the community through volunteering, or simply enjoying a stress-free weekend with no agenda at all.
The team at HorizonView Health hopes that each one of you, no matter how you choose to spend your day, finds a measure of peace and contentment this November.
Happy Thanksgiving!