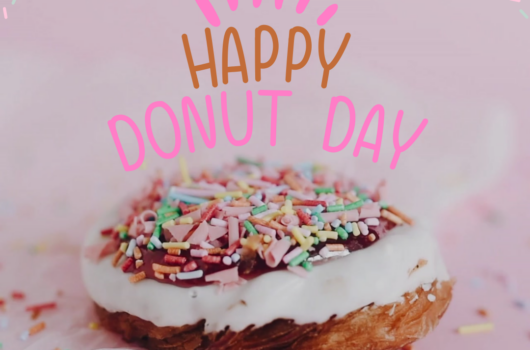 Healthier Homemade Donuts for National Donut Day
My manager approached me asking if I had any recipes for donuts for 'National Donut Day.' I must admit that in my love of baking healthy recipes, this is not a recipe that I have experimented with before. I saw it as a challenge to try and make a healthier version of a donut. And of course, my boys would not complain at this attempt if the outcome resulted in some donuts for them to eat.
My style as a nutritionist is not to avoid or eliminate classic favorite foods. Instead, I like to take those favorites, and learn how to enhance them into a healthier version using more nutrient dense ingredients and less refined flours and sugars. This is beneficial to my body but also allows me to be creative in the kitchen and shift my relationship with food. Every time we create our own food, we change our relationship with it. I believe this wholeheartedly.
The following recipe was adapted from superhealthykids.com. I made two versions of this recipe. I followed the recipe as posted exactly for one version (we will call it version 1), and for another version, I swapped out the honey for a mashed brown banana and some sugar substitute and omitted the frosting. (We will call this version 2).
My kids and husband enjoyed both versions. Version 2 (my favorite), which included sweetness from bananas, had more of a cake like texture and was more comparable to chocolate banana bread, but it still gave me the donut vibes and was equally as enjoyable. My kids asked me to put version 1 in their lunch so I would call that a win. While version 1 had a bit more calories and sugar than version 2, it still was nowhere near the sugar and fat that you get from a standard donut.
Ingredients:
1 large egg
¼ cup almond milk, unsweetened
1/3 cup honey (or 2 brown bananas mashed + ¼ cup granulated Truvia)
½ tsp vanilla extract
1 cup cake flour
1/3 cup chocolate protein powder
¼ cup cocoa powder, unsweetened
½ tsp baking soda
1 tsp baking powder
¼ tsp salt
½ cup dark chocolate chips with 1 tbsp avocado oil (optional if making frosting)
Instructions:
Preheat oven to 350 degrees. Spray donut pan with cooking spray.
In a medium bowl, add the egg, almond milk, Greek yogurt, honey (or mashed bananas + truvia) and vanilla.
In a medium bowl, mix flour, protein powder, cocoa powder, baking powder, baking soda, and salt. Mix together and then add to wet ingredients. Stir together until fully combined. Scoop out by 2-3 tbsp into the donut mold. Each mold should be about 2/3 full.
Bake for 10-11 minutes or until a toothpick inserted comes out clean.
For frosting; mix chocolate chips with avocado oil in a microwave safe dish. Heat in the microwave in 30 second intervals, stirring each time. Once it is smooth, dip the top of each donut into the glaze and allow the excess to drip off.
Chill in the refrigerator for 30 minutes to harden the glaze.
Nutrition (for version 1 with frosting). Made 7 donuts.
Calories: 203, Carbohydrates: 33g, Protein : 7g, Fat: 6.4g, Sugar: 13.8g, Fiber: 2.9g
Nutrition (for version 2 without frosting) Made 11 donuts.
Calories: 95, Carbohydrates: 17.5, Protein: 7g, Fat : 1.3, Sugar: 3.7g, Fiber: 1.8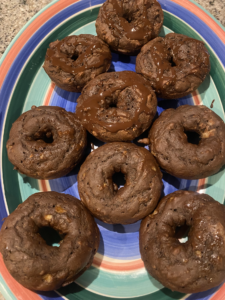 Recipe adapted from Healthy Homemade Donuts – Super Healthy Kids