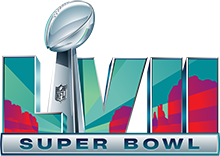 Super Bowl weekend is here!
For all the football fans, many of us will be at a viewing party to watch the ultimate football game of the year, although which team to cheer for is up for debate.
Every viewing party comes with plenty of food and beverages to sustain us through the 3+ hour nail-biting game for the complete Super Bowl experience. Unfortunately, many of us end up fumbling our healthy lifestyle game plan due to getting sacked by poor food choices. But have no fear, here are some of our favorite "plays" that will help you defend your game plan and still enjoy the game!
Pre-Game Warm Up
Every football team has a great warm up with practice drills in order to play their best game.
Loosen up for the extended couch time ahead by going for a pre-game walk/run or a 5 minute stretch routine.
Have a protein-based snack or a light meal to help curb your appetite so you can make smarter food choices later on.

Protein Snacks

String cheese
1 oz of beef/turkey jerky
Greek/Icelandic yogurt
Protein bar/shake

Power Combos/Light Meals

1 protein snack from above + 1 serving of fruit
½ sweet potato and ¼ – ½ cup black beans
Ham and cheese roll up
Veggies with hummus + 1 protein snack
¼ – ½ medium avocado + handful of cherry tomatoes + 1 protein snack
Fueling the Team
Cheering your team on for 3 hours is serious work and takes energy. Fuel your squad with healthy options so they can last the full game and avoid the half-time nap attack.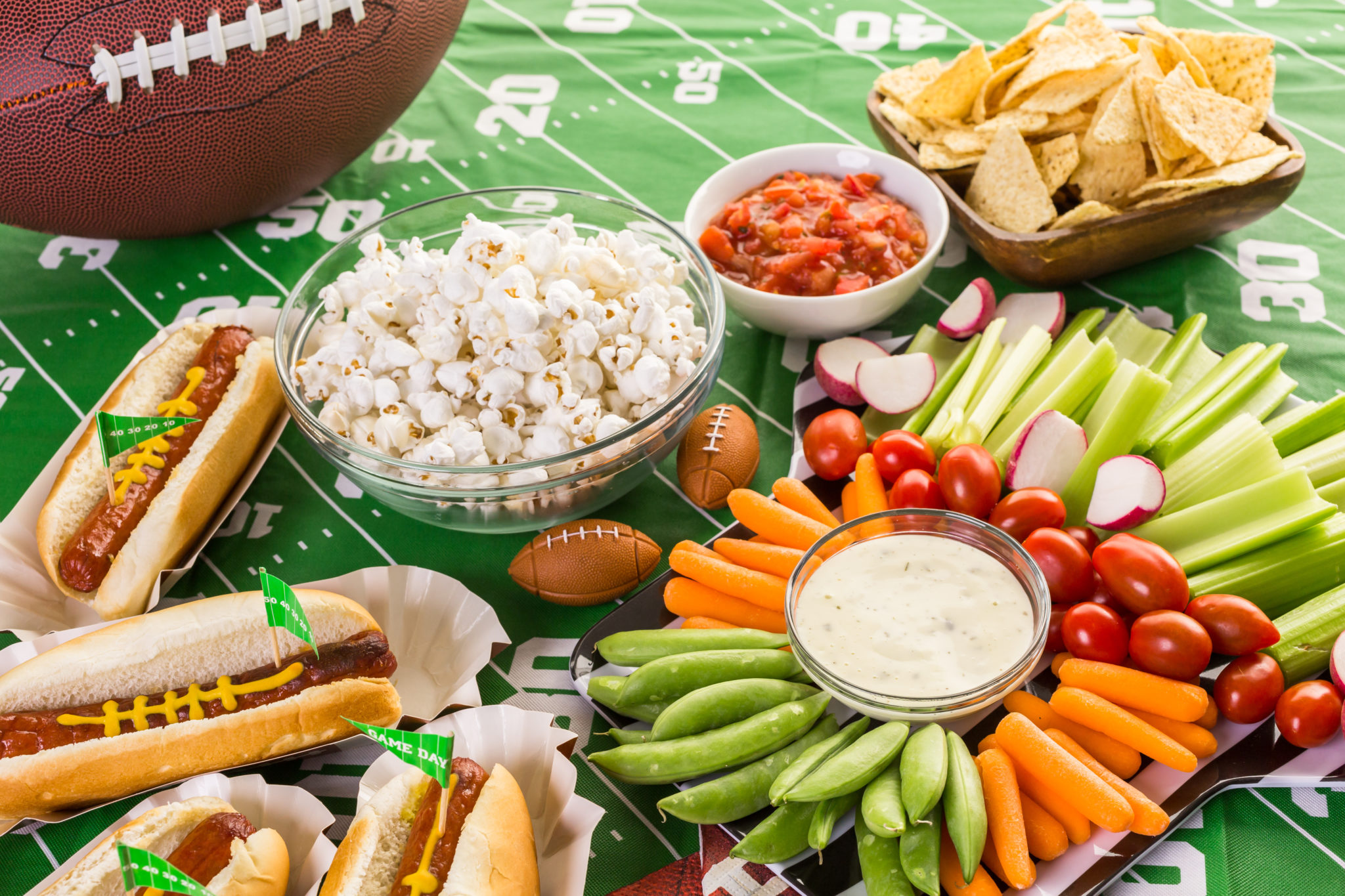 Lighter Versions of Favorite Classics (Score big on flavor without the calories!)
Healthy Fan Fare

Veggie platter
Fruit salad
Greek yogurt dip

From the Pritikin Center: 3/4c plain non-fat Greek yogurt, 1 minced garlic clove, 2 tablespoons of chives, 1 tablespoon lemon juice, sprinkle of black pepper as desired
Tailgate
Grilling is one of the trademarks of a good tailgate party! Be sure to choose lean cuts of meats and bump up the flavor with salt-free seasonings and aromatics (like garlic and onions).
Hydration
Take a water break! Between every high calorie/alcoholic beverage, drink a glass of water.
Alcohol
Alcohol can rack up penalty points fast due to hidden calories, especially when we are deeply invested in the game. The American Heart Association recommends limiting to 1-2 alcoholic drinks for men, and 1 drink per day for women. You can still indulge in a drink of your choice with some of these lighter options listed down below.
Note: Try to stay away from high calorie mixers (juices/regular soda), tonic water (has sugar/high fructose corn syrup) and club soda (high sodium).
Beer (Per 12 oz)

Bud Light (Budweiser): 110 calories, 6.6g carbs, 4.2% ABV
Corona Light: 105 calories, 5g carbs, 4.5% ABV
Coors Light: 102 calories, 5g carbs, 4.2% ABV
Michelob Ultra: 95 calories, 2.6g carbs, 4.2% ABV
Miller Lite: 96 calories, 3.2g carbs, 4.2% ABV

Spirits (With 1 jigger = 1.5 oz) & Wine

Tequila with seltzer water and lime juice
Skinny Captain (Rum): Coke Zero and Captain Morgan
Vodka with seltzer water or flavored sparkling water
Sparkling wine spritzer: 2 oz chilled white wine + 2-4 oz seltzer water

Mocktails

1-2 oz of 100% fruit juice (such as apple, cranberry, etc.) diluted with seltzer water over ice
Arnold Palmer (black tea lemonade): Simply™ Light Lemonade (sweetened with Stevia) and unsweetened iced black tea
It's More Than Just Food
Football games and sporting events don't always have to be about eating and drinking. Many of us love these events because it's also a great time to catch up with friends and sharing a common interest. (It's also a great time to strike up some friendly competition with your rivals.)
Go Take A Lap (Stay Active)
Watching a sporting event of any kind usually involves sitting for long periods of time, because we don't want to miss any of the action (or the half-time show!). However, we all know staying active is a crucial component to a healthy lifestyle.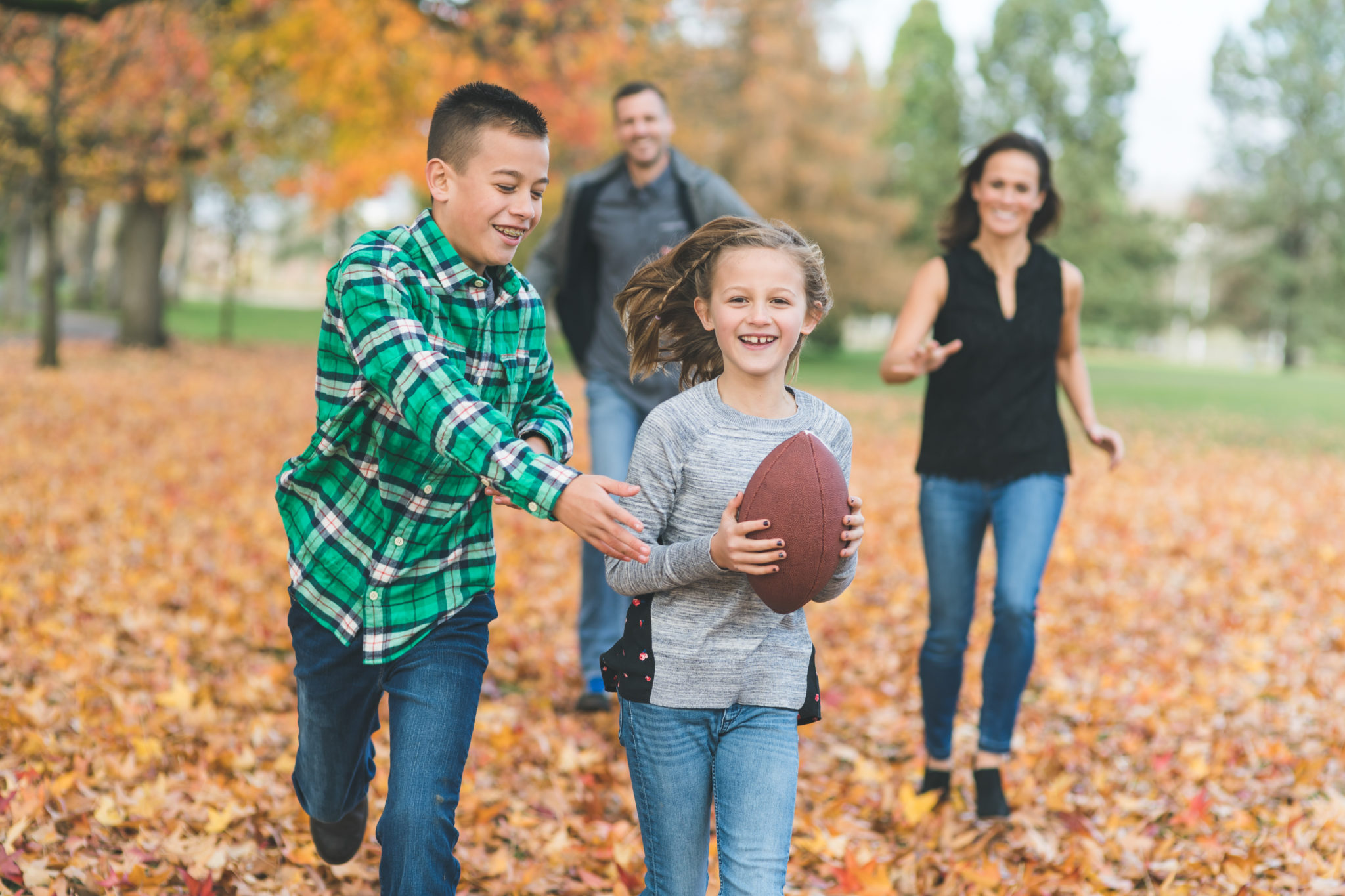 Here are a few ways to incorporate activity into game day without sacrificing the big screen action:
At half-time: When it's game analysis time (or the music performance, your pick), take a short walk around the neighborhood to stretch out the legs and get some fresh air.

Most halftime shows are 15-30 minutes long; set an alarm so you can get back on time for the second half!

Commercial breaks:

Walk around the house
Stretch out your legs, hips, back, neck, arms
Do 1-2 sets of 10 (or compete with each other on who can do the most):

Pushups (wall, knee, traditional)
Lunges (side, forward, backward, curtsy)
Squats (half, full)
Jumping jacks
Sit ups

Do 1-2 sets of 15-30 seconds (or compete with each other on who can hold the longest):

Wall sits
Planks
Running/ walking in place
Mountain climbers

For each event (or just one!), pick one exercise to do listed below:

University of Oregon's mascot "Puddles" will do a push-up for every point on the score board after Oregon scores. When there was 3 touch downs and 1 field goal, he did a total of 66 push-ups! (7 + 14 + 21 + 24)
For less intense version of Puddle's workout, you could choose one exercise to do 10 reps for every point-scoring play (i.e. 10 jumping jacks for every touch down/field goal).
More intense workout: Pair each of the following events with one exercise – you decide how many reps!


| | |
| --- | --- |
| Event | Exercise |
| Field goal | Jumping jacks |
| Touchdown | 30 second plank |
| Flag on play/ penalty | Squats |
| Time out | Burpees |
| Complete pass | Push-ups |
| 1st down | Front kicks |
| Turnover | Lunges |
| Sack | 30 second wall-sit |
With a complete game plan designed to help you stay on track, I wish you all the luck in avoiding the sacks, interceptions and penalty calls this game! May the odds be in your teams' favor – either way it's going to be a great one to watch!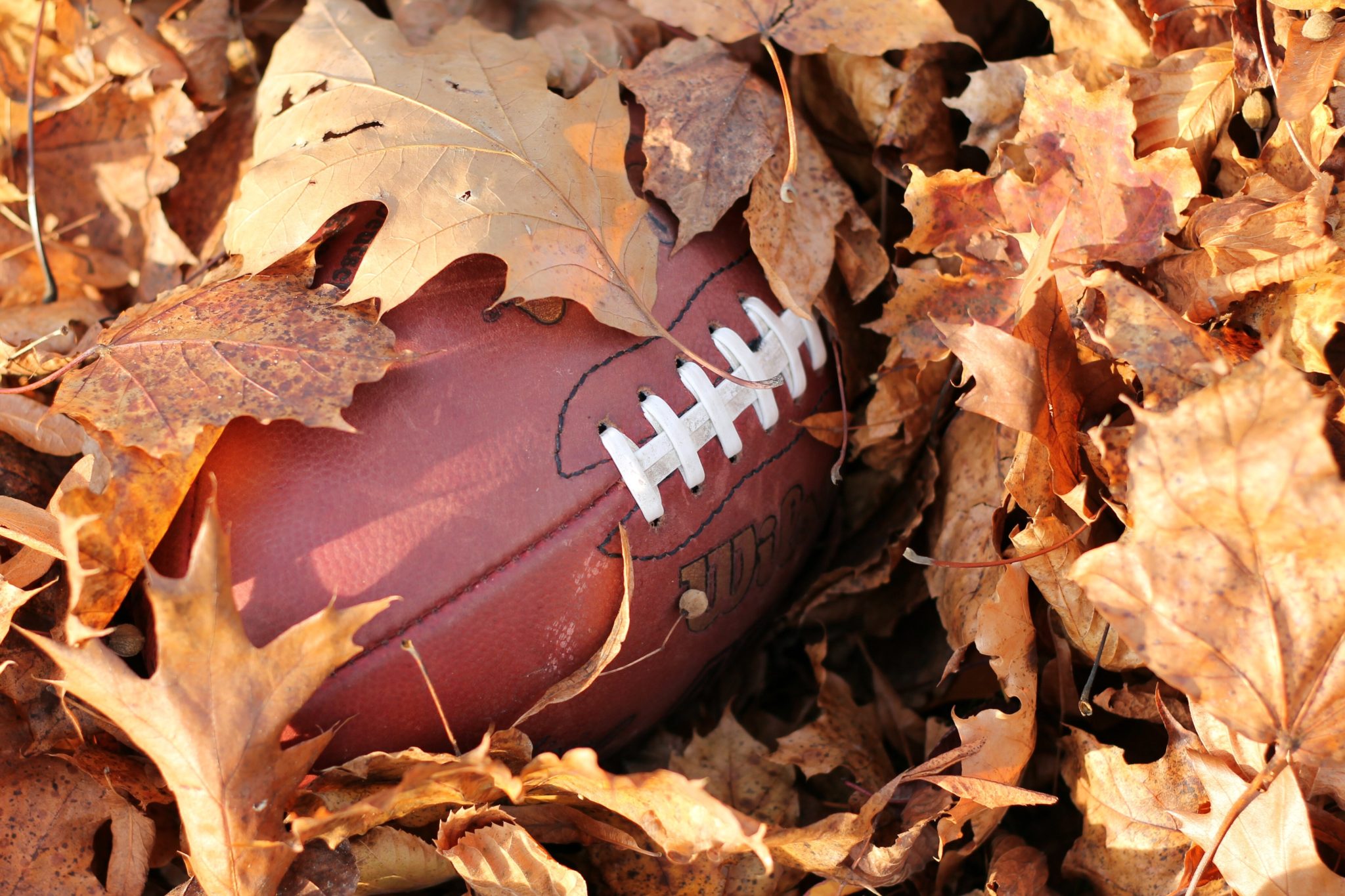 Adriana Ho, MS, RDN, CD, ACSM-CEP
Registered Dietitian