Summer Grill Time! (With Recipes)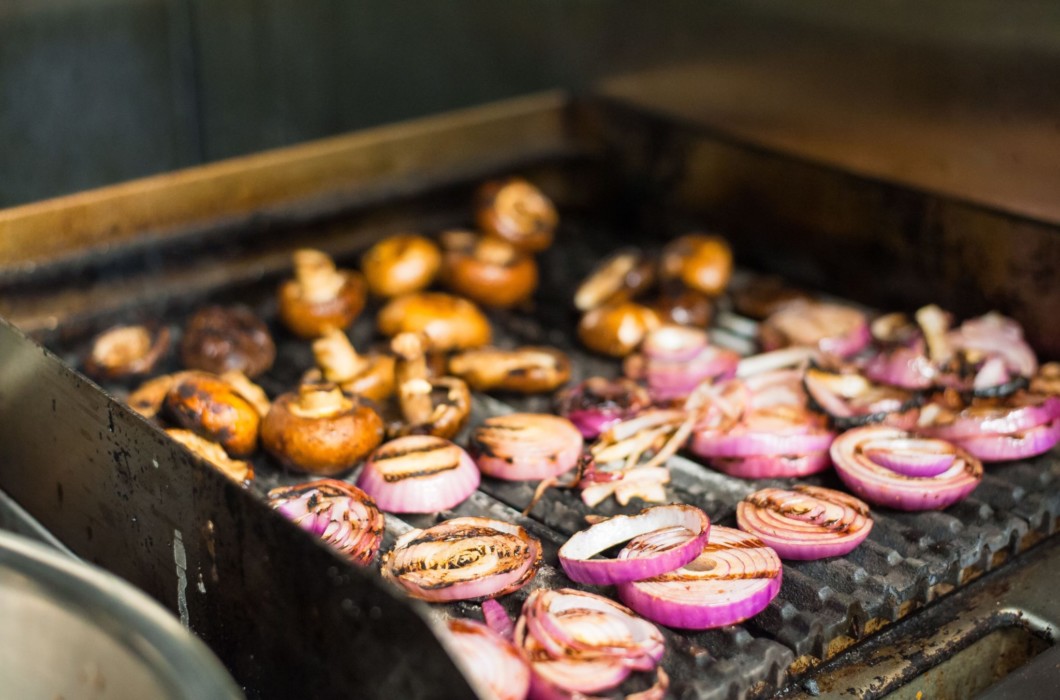 Summer is the perfect time to dust off the grill that has been in the shed since last year (and it's still not too late!). What better way to enjoy summer than grilling outside! With plenty of fresh produce available at your local farmers' market, there is truly no better way to enjoy the warm weather. Summer is the perfect time to take advantage of farmers' markets as they provide you the freshest produce right from the backyard, and taste the best as they are picked at their prime! (Read all about farmers' markets here and here)
Grilling does not need to be anything fancy or complicated. All you need are a simple marinade, a choice of a protein or two, and of course your favorite vegetables! Below are some of staff favorite recipes and some links to my favorite recipes and marinades.
Quinoa Salad by Adriana Ho
3+ tablespoon lemon juice
1 tablespoon red wine vinegar
1 generous pinch of dried oregano
1 clove garlic, minced
¼ cup olive oil
Salt and pepper to taste
1 cup cooked quinoa
1 orange bell pepper, diced
1 large cucumber, deseeded and diced
In a large mixing bowl, combine together the lemon juice, red wine vinegar, oregano, garlic and olive oil. Mix until well combined.
Add in the quinoa, bell pepper and cucumbers.
Generously toss to dress the salad.

For best results, let it sit in the refrigerator for at least 2 hours to soak up the flavors.
Maui Grilled Chicken – Adapted from Karen Aws, shared by Mary Baker
2 pounds of boneless, skinless chicken breast, cubed
1 heaping tablespoon chopped fresh garlic
1 ½ tablespoon grated fresh ginger root
¼ cup brown sugar, lightly packed
1 teaspoon sesame oil
1 cup light soy sauce
¼ cup pineapple juice
Mix together in a large re-sealable plastic bag: garlic, ginger, sugar, sesame oil, soy sauce, and pineapple juice.
Pat chicken dry and place chicken pieces into the plastic bag. Leave chicken to marinate in the refrigerator for at least 6 hours, or preferably overnight.
Grill chicken until thoroughly cooked through, and remember to turn often to prevent burning!
Herbed Grilled Corn in the Husk – Adapted from Lissa and Dave Mayer, shared by Mary Baker
8 ears of corn
1 stick of unsalted butter, softened
1 tablespoon chopped fresh parsley
1 tablespoon chopped fresh rosemary
1 teaspoon chopped fresh oregano
1 clove of fresh garlic, finely minced
Salt
Pepper
Preparing the compound butter:
In a small bowl, mix together the butter and chopped up herbs until well combined. Set aside.
Preparing the corn:
Soak the corn in a tub of water for at least 15-30 minutes.
Once the ears of corn are done soaking, peel the husk back to the base/ "ear" of the corn, but don't remove it! Pull out the silks and discard.
Butter each ear of corn with the compound butter and season with salt and pepper as desired.

Any remaining butter can be saved to use for later!

Pull the husks back up around each ear to cover all the kernels. If the husks do not completely cover the kernels, wrap the corn in aluminium foil and twist the ends.
Place the ears of corn on the grill and turn with tongs about every 5 minutes to prevent burning. Cook for about 15-20 minutes until corn is tender.
Halibut Alaska by Leilani Wenzen
2-3 lbs Halibut fillet
1-2 tablespoon of Johnny's Seasoning
1-2 tablespoon of dill weed
1 tablespoon butter
1 cup diced sweet onion
Black pepper for seasoning
½ pint light sour cream
1 can condense, reduced-fat cream of mushroom soup
½-1 cup grated cheddar cheese
Preheat the oven to 325*

To grill: Place fish onto a large piece of foil big enough to make into a sealable packet later on. Proceed with rest of the steps.

In a large baking dish, butter the bottom of the dish with the 1 tablespoon butter
Place the halibut fillet in the pan. Sprinkle on top the onions, Johnny's Seasoning and Dill weed.

Note: Sprinkle to your preference of Johnny's seasoning and dill weed

In a small bowl, mix together the sour cream and cream of mushroom soup. Pour mixture over the halibut
Sprinkle on top the grated cheddar cheese (preference of how much you like) and bake for 45 minutes until fish is cooked thoroughly.

To grill: Fold the large piece of foil over the fish and start pinching the sheets of foil together to make a packet. Place foil packet onto the grill on medium heat. Bake for about 30-45 minutes until fish is cooked thoroughly.
Salmon with Mustard Glaze – Adapted from Steven Raichlen, shared by Mary Baker
6 pieces of salmon fillets, 6-8 oz each piece (with or without skin is your preference)
1 tablespoon olive oil or melted butter
Coarse salt and black pepper
4 teaspoons toasted yellow mustard seeds
¼ cup mayonnaise
½ cup grainy mustard
1 tablespoon chopped fresh dill
1 teaspoon brown sugar (optional)
Coarse salt and black pepper
Preparing the salmon:
Check your salmon fillets for any bones; pull out any bones with needle-nose pliers or tweezers.
Rinse the fillets under cold water and pat dry with paper towels.
If the fillets have skin, brush the skin with oil or butter. Season both sides of the fillet with salt and pepper.
Preparing the glaze:
In a glass bowl, whisk together mustard seeds, mayonnaise, mustard, dill and the optional brown sugar. Add salt and pepper to taste.
Grilling the salmon:
Preheat the grill to medium heat. When the grill is ready, brush the grill plates generously with the oil. (See note below if you are using skinless fillets)
Gently place fillets skin-side down on hot grate.
Carefully spoon the glaze evenly over the tops of the fish pieces and cover the grill.
Grill the salmon until evenly cooked through, about 12-15 minutes. The skins will be dark and crisp. The fish will be done when you can easily flake it apart and it is evenly light pink throughout.

Note: If you have skinless salmon fillets or afraid of the skins burning, place aluminium foil on grill plates first. Then place the salmon fillets on top of the aluminium foil and follow rest of the directions.
Read on for websites to my favorite marinades and recipes.
Favorite marinades:
Recipe Tin Eats: Easy Essential marinades  (Note: has GREAT image of 12 easy marinades!)
Food Network Kitchen: Marinated Chicken Breasts
The Spruce Eats: Lemon and Rosemary Marinade
Seattle Times: Lime and Orange Chicken
Genius Kitchen: Lemon Garlic Chicken
All Recipes: Rosemary Lemon Grilled Chicken 
Favorite recipes:
Serious Eats: Balsamic Marinated Portobello Burgers
The Spruce Eats: Grilled Portobello Mushrooms
Simply Recipes: Salmon Teriyaki Skewers with Pineapple
Darn Delicious: Grilled Lemon Garlic Zucchini
Inspiralized: Pesto Zucchini Noodles with Salmon and Avocado
Inspiralized: Chilled Asian Zoodle Salad with Chicken and Avocado
Inspiralized: Cold Spiralized Sesame Noodle Salad
Darn Delicious: Southwestern Chopped Salad with Cilantro Lime Dressing
Taste of Home: Berry Delightful Spinach Salad
Inspiralized: Spiralized Yellow Squash with Basil and Mint
Darn Delicious: Kale Cobb Salad 
I hope you have a great time experimenting in our seasonal kitchen. Bon appetite!
Adriana Ho, MS, RDN, CD
Registered Dietitian
To read more blog posts written by Adriana, click here.