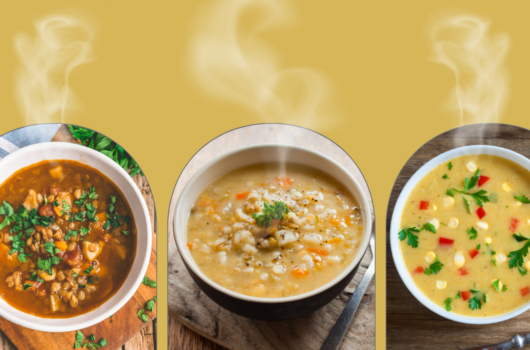 Creamy Vegetable Chickpea Soup
Recipe Adapted from Domestic Goddess. Adjusted by Dana Ruch.
Ingredients
1 tbsp olive oil
1 large onion
3 sticks celery, diced
3 large carrots, diced
4 cloves garlic, peeled and crushed
¼ cup gluten free flour
5 cups vegetable, chicken, or bone broth (protein will be higher using bone broth)
1 tbsp herb de province herbs
2 bay leaves
1 cup frozen peas
1 can chickpeas, drained and rinsed
½ cup canned coconut milk lite
Salt and pepper
Add spinach (optional)
Add 2 scoops of collagen and/or chicken to increase protein amount.
Instructions
Heath the olive oil in a large saucepan. Add the onion, celery, carrot and garlic. Cook gently, stirring often for about 10-15 min until veggies are soft.
Stir in the flour and cook for a minute while stirring.
Gradually stir in the broth, a little at a time while stirring.
Add mixed dried herbs and bay leaves.
Bring to a gentle simmer and cook for about 5-10 minutes
Add the peas and chickpeas and simmer for 10 more minutes.
Throw in a bunch of spinach to wilt into the soup if desired.
Remove from heat and add in the coconut milk. Salt and pepper to taste and stir.
Nutritional Information (calculated with no animal protein source added, but encouraged to add animal protein source to the soup)
Serves 5
Calories: 204, Protein: 6.1g, Carbs: 32.1g, Fat: 5.8g
Butternut Squash Soup
Ali Cameron
2 cups butternut squash, peeled and cubed
1 onion, peeled and cut in quarters
2 cups carrots, peeled and chopped med
4 cloves garlic, peeled
Fresh thyme 
Salt + pepper
3 cartons chicken bone broth
1 small cabbage chopped
Spray sheet pan with avocado oil and spread veggies (besides cabbage) on sheet pan evenly. Drizzle with avocado oil and sprinkle seasonings. Roast at 400 degrees for 40 mins.
In a large pot add all roasted veggies, bone broth, chopped cabbage and bring to a boil.
Use an immersion blender or add to a blender to blend all ingredients to smooth consistency. 
Season with salt and pepper and garlic/herb seasoning to taste.