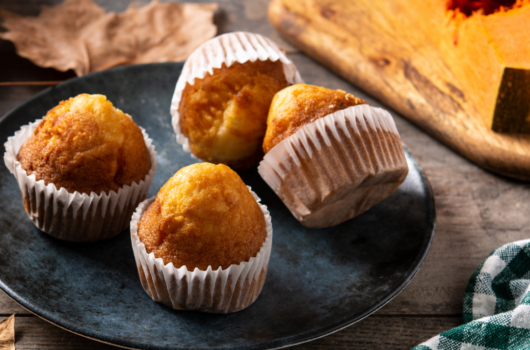 Pumpkin Everything
I love pumpkin just as much as the next person. Unfortunately, like most foods in our culture, we love to add lots of sugar to that pumpkin. Sugar stimulates inflammation in the body which counteracts the natural benefit of the delicious, colorful, and beautiful pumpkin.
You may not realize that pumpkin is nutrient packed. It is rich in antioxidants and anti-inflammatory properties. I think of antioxidants like Pac-Man trailing around the body to eat all the free radicals which are basically bugs that promote aging and sickness. We WANT to eat foods that are rich in these Pac-Man antioxidants.
Pumpkin is rich in vitamin A, which is crucial for beautiful hair, skin, nails, bones, eyes, and teeth. How many of us are purchasing expensive beauty products to get exposed to vitamin A when we can get a heavy hit of it just by eating this winter root vegetable that is growing in season. It is high in fiber and diuretic properties that help to detoxify the body. Pumpkin is basically a beauty food!!
Diuretic = flushing the body of water = not bloated, clear skin = Yes, Please!!
Pumpkin is relatively low in calories because it's comprised of a lot of water. It's high in vitamins and minerals such as vitamin C, magnesium, phosphorus, zinc, folate, vitamin E, iron, folate, and other B vitamins. All these nutrients pack the punch to help the immune system. It's almost like the pumpkin is growing in this season specifically to prepare us for cold/winter sniffles. Isn't nature cool to consider us like that? Pumpkin is also a great source of fiber which helps us to feel full longer, so it promotes heart health and satiation.
Pumpkin is very easy to add to soups, smoothies, muffins or pancakes and you can add nutrient dense pumpkin seeds to salads. Here are a few ways to incorporate this orange beauty into your diet this season without all the added sugar.
Pumpkin Chili
Pumpkin Overnight No Oats
Pumpkin Spice Pudding
Pumpkin Pancakes
Pumpkin Muffins
*Disclaimer – many of the goods that I bake are not very sweet like standard American dishes as I work them to be more macro balanced. This is because I use natural sources of sweetener such as brown bananas. I also don't add fake sweeteners just for the sake of making it sweet. We should strive to teach our taste buds to acclimate to less sweet. This may take some time to work up to. Feel free to make modest adjustments by using the optional ingredients to adjust your palette over time. Additionally, many of my baked goods do not rise and look pretty like you might purchase in the bakery section. Keep in mind that when you are using less sugar, less processed ingredients, less gluten, and less additives, the finished product will look different. Trust me, give it a try and see that it still can taste delicious.
Pumpkin Muffins
2 Brown Bananas
1 tbsp Raw Honey (optional)
¼ cup unsweetened almond butter
2 servings of Pumpkin or Vanilla flavored Protein Powder
2 servings of Coffee flavored Collagen (Ancient Nutrition Cold Brew Collagen) or Unflavored Collagen
1 can Pumpkin Puree
1 tsp vanilla bean paste or vanilla extract
1-2 eggs
Bake at 350 for about 12-15 minutes – cook until somewhat firm in the center, store in the fridge, the texture will be flat and fudgy rather than risen and fluffy.
** Depending on exact ingredients used, comes to about 80 calories per muffin and 30%P/38%C/32%F
**Adapted from Dana's kitchen
Crockpot Pumpkin Turkey Chili
1 tbsp extra virgin olive oil
1-pound lean ground turkey
1 onion, chopped.
3 cloves garlic
1 can diced tomatoes.
1 can kidney beans or black beans drained.
1 pack of frozen cauliflower rice
1 can pumpkin puree
1 tbsp pumpkin pie spice
1 tbsp ground cumin
1 cup beef bone broth
Brown turkey, stirring often, until crumbly and no longer, pink. Drain and discard any fat.
Transfer turkey to crockpot and add all other ingredients. Set crockpot to low and simmer for 6-8 hours, or set crockpot to high and simmer for 3-4 hours.
Pumpkin Overnight No Oats
1 tbsp chia seeds
1 tbsp hemp seeds
1 tbsp flaxmeal
1 scoop vanilla protein powder
¼ cup pumpkin puree
½ tsp pure maple syrup (optional)
1 tsp pumpkin pie spice
½ cup water or unsweetened almond milk
Mix all ingredients together and store in an airtight container overnight.
Pumpkin Spice Pudding
1 ½ cup pumpkin puree
1 frozen banana
1 cup unsweetened almond milk
¼ cup flaxseed meal
1-3 tsp pure maple syrup
1 tbsp pumpkin pie spice
1 tsp vanilla extract
1 scoop vanilla protein powder (optional)
Mix all ingredients in a high-powered food processor until smooth. Serve immediately or chill for 30 minutes or longer for thicker texture. Serves 4
*Adapted from Eat Pretty book
Pumpkin Pancakes
1 brown banana, mashed.
1 egg
¼ cup pumpkin puree
2 tsp pumpkin pie spice
1 scoop vanilla protein powder
Splash of unsweetened almond milk to get a batter consistency.
Mix in a bowl until there is a pancake batter consistency. Adjust liquids as needed. Pan fry to a pancake.