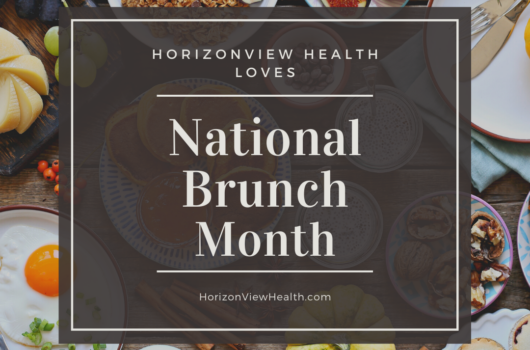 National Brunch Month
I whole heartedly believe in celebrations. Even as a nutritionist, I also believe that food is more than just fuel. Food is love, food is joy, food is culture, and food is beautiful. If all these things are true, then we can marry nutrient dense foods and meals with celebrations. It just takes a little planning, creativity, and mindfulness.
April is National Brunch Month. The concept of brunch began in the 1930's. It is suggested to be a light, special occasion, sociable meal. Beautiful food with friends!? Yes please.
Now let's get creative on how we can make this social event nutritious too.
One of my favorite things to do is to browse cookbooks and Pinterest to find meal inspiration. Sometimes just looking at a picture of a dish, can instigate creativity in the kitchen. One thing to note, however, is that you don't have to follow any recipe exactly as you find it. You just have to use a detective eye on which ingredients can easily be swapped out or replaced. You can even omit or halve the recommended sugar in the recipe. I like to use natural sources of sweet that also provide some fiber and other nutrients, such as a mashed banana instead of white sugar. Another trick is to double the number of vegetables that the recipe calls for. This will change the fiber content and shift the macronutrient ratios of the dish. I like to take classic recipes and enhance or "HEALTH-IFY" them. Here are some classic favorites, spun to be a little more nutrient dense.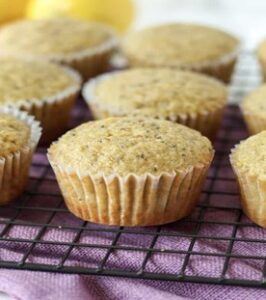 Lemon Chia Oat Muffins (Gluten Free, Dairy Free)
These are delicious and light. I love the lemon flavor and the chia provides a great source of fiber. These have a higher fat content which is sourced from coconut oil. Yes, coconut oil is a source of saturated fat, but saturated fats from certain whole food sources, in moderation can have a healthy place in the diet. Coconut oil has been found to raise HDL, good cholesterol. It also consists of medium-chain triglycerides which may offer energy and help with weight loss. However too much of a good thing, can be harmful. Too much saturated fat can also raise LDL bad cholesterol. So, remember that it is the balance of our food that matters. Pair this delicious muffin with a protein source and delight in its decadence.
Dry:
1 cup oat flour
0.5 cup almond flour
½ tsp salt
½ tsp baking soda
3 scoops plant-based protein, vanilla (I used SunWarrior Protein, vanilla) (You can use Whey protein, but the texture will be slightly different).
Wet:
½ cup applesauce
1 large banana, mashed
Zest of 2 lemons
1 tsp vanilla extract
2 eggs
1 tbsp chia seeds
1/3 cup coconut oil, melted
2 tbsp unsweetened vanilla almond milk
Instructions:
Fold the wet ingredients into the dry ingredients. Bake at 350 degrees for 15-16 minutes.
~Makes 16 muffins. (Nutrition info calculated for 16 muffins of this recipe).
~Calories 119; Fat (51%) 6.7g, Protein (19%) 5.6g, Carb (31%) 9.1g Fiber 1.4g
Protein Pancakes
You can spruce these up with berries or decorate with a dallop of cool whip and unsweetened coconut flakes for garnish. Remember that any toppings or garnish, will adjust the nutrition information.
Ingredients:
3 bananas
1 ½ cup egg whites
3 scoops of protein powder (chocolate or vanilla will do)
3 tbsp flaxseed meal
2 tbsp chia seeds
Sprinkle of cinnamon and tsp of vanilla extract (optional)
Instructions:
Mix ingredients together and make into a pancake on a medium hot skillet.
~Nutrition info for 12 servings made from recipe.
~For 1 pancake – Calories 73; Fat (15%) 1.2g, Protein (44%) 8.3g, Carb (44%) 8 g, Fiber 1.1g
Almond Flour Crepes (GF, DF)
A crispy, light, and delicious low carb option. Jazz it up with a bit of almond butter, monk fruit syrup and berries, or SF chia seed jam. Or better yet, increase the protein content by cutting up some Jennie-O turkey ham and throw on some arugula and tomatoes for a more savory option. Aim for balance with add-ins. For example, if the recipe is a bit lower in protein and higher in fat or carbs, try to add-in something with a bit more protein.
Ingredients:
4 eggs
¼ cup almond flour
¼ tsp ground cinnamon
1 tbsp monk fruit (may use other sweetener such as 1-2 tsp of pure maple syrup, but this will change nutrition info)
1 tbsp coconut oil to grease the crepe pan
Instructions
Whisk the eggs, almond flour, vanilla extract, cinnamon, and monk fruit together.
Warm a 9-inch crepe pan over medium heat. Grease the pan with coconut oil, making sure oil spreads to every part of the pan.
Scoop crepe batter into the pan in a circular motion, ensuring the batter coats the pan evenly. The thickness of the crepe will depend on how much batter you use. Usually, a ¼ cup is what you need to make a 9-inch crepe.
Cook the crepe until the sides start to brown lightly and crisp up, while remaining softer in the middle.
Can store in the fridge for up to 3 days.
~Nutrition info calculated for 4 crepes made from recipe.
~For 1 crepe – Calories 115; Fat (62%), Protein (20%) 6.7g, Carb (18%) 5.8g, Fiber 1.1g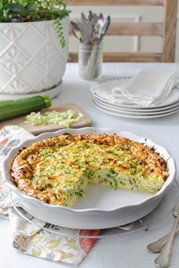 Vegetable Crustless Quiche (Milk and Dairy Free options)
Feel free to add a protein of choice such as crumbled turkey bacon, cubed ham, and/or your favorite cheese variety. These add-ins will change the nutrition information. Note: You can always turn a whole quiche into muffin portions by moving the ingredients to a muffin tin. Put the vegetables first evenly into each muffin tin and then evenly distribute the egg mixture, 2/3 full, into each muffin cup.
Ingredients
6-7 eggs
1 cup broccoli
½ cup onion chopped
5 asparagus spears cut in smaller pieces
Handful of baby spinach
¼ cup half and half + 2/3 cup whole milk OR 1/3 cup canned coconut milk lite
2 tsp olive oil (for cooking vegetables prior)
½ tsp salt
¼ tsp black pepper
1 tsp Dijon mustard
Instructions
Preheat oven to 350 degrees. Coat a deep 9-inch pie dish with olive oil cooking spray.
Prepare veggies stove top prior to adding to egg mixture. Use olive oil for cooking veggies stove top.
In a large mixing bowl, whisk together eggs, milk, salt, pepper, and Dijon mustard.
Lay the veggie mix evenly on the bottom of dish.
Pour egg mixture into the dish.
Bake quiche on a baking sheet for about 35 minutes until the center is set. Test by sticking a knife in the center. There should be no visible liquid. Let cool before cooking.
~Nutrition info for 6 servings of quiche pie
~Nutrition info for whole milk version – Calories 141; Fat (59%) 9.2g, Carbs (14%) 5g, Protein (27%) 9.3g, Fiber 0.8g
~Nutrition info for coconut milk version – Calories 122; Fat (60%) 8.2g, Carbs (14%) 4.2g, Protein (26%) 8.1g