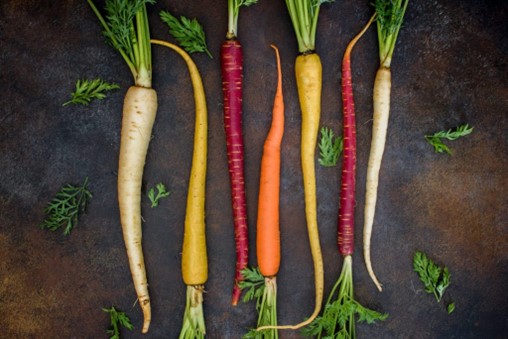 Certified Nutritionist, Dana's, Favorite Soup Recipes
Ayurveda wisdom and nutrition draws from principles that focus on internal and external harmony. The phrase 'grounding foods' comes from the Ayurvedic belief that foods offer energy properties to affect our body in different ways. It is the concept that mother nature provides different foods in each season that best supports our body during that time of the year. During this time of year, root vegetables are more bountiful, and as the name suggests, root vegetables have roots that extend deep down into the Earth, and therefore help anchor us to feel more focused and centered.
Here are some healthy and hearty cold weather recipes that use whole foods and incorporate these beautiful grounding root vegetables. Take advantage of soups and stews that can easily be cooked in crockpots ahead of time and reheated at mealtimes. These dishes hold up nicely for leftovers too.
Pumpkin, squash, pears, and apples, Oh My!
Sauerkraut Soup – warm, hearty, filling
1 tbsp olive oil
2 sticks of celery
1 medium onion, diced
2 medium carrots, diced
3 medium red potatoes or 1 medium sweet potato, sliced
¼ cup quinoa, (optional)
2-3 cups sauerkraut, rinsed and drained
1 can white beans
8 cups low sodium chicken broth
Salt and pepper to taste
1-3 bay leaves
~ Heat oil in large soup pot to sauté vegetables
~ add broth and more water if needed and bring to a boil, reduce heat and simmer for 15 minutes
~Add drained and rinsed sauerkraut and beans
~ Add bay leaves and season to taste
*This soup would pair nicely with turkey kielbasa or ground chicken as the protein
Turmeric Cauliflower Chowder – smooth and comforting
1-2 tbsp olive oil
2 large carrots
1 head cauliflower
2 celery stalks
2 cloves garlic
1 bunch cilantro
1 tbsp fresh ginger
1 medium yellow onion
½ cup canned coconut milk
4 cups low sodium chicken or vegetable broth
1-3 tsp ground turmeric
1 tsp cumin
Salt and pepper to taste
~ Heat oil in large soup pot. Sauté onion, carrot, and celery until slightly tender
~ Stir in garlic and ginger and sauté for another minute or two
~ Add cauliflower and heat through
~ Stir in turmeric and cumin
~ Add broth and bring to a boil
~ Place lid on pot and simmer for about 20 minutes
~ Use a stick blender and blend half the soup, leaving chunks of cauliflower and vegetables
~ Pour in coconut milk and reheat soup
~ Garnish with cilantro
*This soup would pair nicely with shredded chicken or clams
Dairy Free Zuppa Toscana – Warm, Cozy, and Filling. Perfect for a family/friend gathering.
1 tbsp coconut oil
1 large onion, chopped
1 lb ground Italian sausage or lean ground chicken or turkey
3 cloves garlic, minced
1 tbsp Italian seasoning
8 cups chicken broth
6 medium red potatoes, coarsely chopped, no need to peel
A whole lotta fresh kale chopped, use as much or as little as you like. Approximately 6-8 cups. Just eyeball it. No need to measure exact.
1 can coconut milk (light or full fat)
Sea salt and black pepper to taste
~Melt coconut oil in a large pot. Add onion and sauté for 3 minutes
~ Add ground meat and cook until browned
~ Add Italian seasoning and minced fresh garlic. Stir until fragrant.
~ Add chicken broth and potatoes. Bring to a boil. Reduce heat, cover and simmer for 10 minutes
~ Add kale and coconut milk. Simmer for another 5 minutes until potatoes are fork tender
~ Add salt and pepper to taste
Roasted Butternut Squash Soup – Easy, Delicious, Beautiful and Nutritious Soup
– 1-2 tbsp olive oil
– 1 large butternut squash soup
– 2 carrots
– 3 stalks celery
– 1 large onion
– 5 cloves of garlic
– 6 sage leaves
– 6 sprigs of thyme
– 1 sprig of rosemary
– 3 ½ cups of vegetable or chicken broth
– salt and pepper to taste
~ First roast vegetables to prepare to blend.
~ Preheat oven to 350 degrees.
~ Consider putting BN squash in the microwave for 3-5 minutes to soften and make easier to cut. Then peel, pit and chop into squares and place on roasting pan.
~ Chop carrots, celery and onion into chunks and add to pan.
~ Peel and chop garlic and add to pan
~Drizzle vegetables with olive oil and add herbs. (Easier to puree later if stems of herbs are removed)
~ Roast vegetables for about 1 hour, until fork tender. Add more time if needed.
~ Transfer cooked vegetables to a food processor or blender. Add 1 cup of broth and puree until smooth and creamy. Remove stems of herbs, if still visible.
~ Pour mixture into large saucepan and add remaining broth. Stir well and simmer for about 10 minutes. Add more broth to desired soup consistency.
~ Garnish with additional fresh herbs and pumpkin seeds.
*Consider adding collagen to your individual bowl of soup for added protein. Turkey kielbasa or chicken could be added as well for additional protein or consider just having this soup as a side dish to your protein source of the meal.
*Serve with favorite whole grain crackers, rice crackers or croutons for crunch. Wasa Rye Crisps are also delightful soaking in the soup. Top with pumpkin seeds for garnish and extra nutrient density.