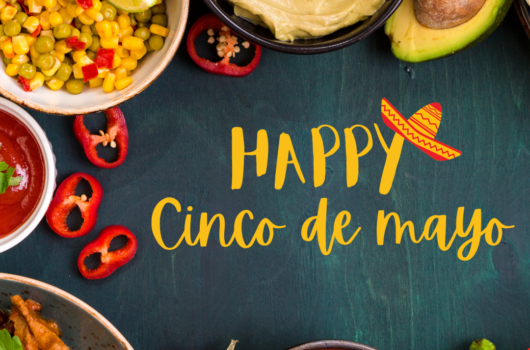 Just because you're trying to lose weight doesn't mean you have to skip the Cinco de Mayo festivities. While Mexican food isn't generally thought of as healthy, it doesn't mean it can't be. Check out these tips & tricks to ensure you don't miss out on the fiesta!  
 Drinks- 
Tequila is one of the few alcohols out there that is free of both carbs & sugar. While its still best to not over do it, indulging in one or two Cinco de Mayo drinks won't totally kill all your hard work. Opt for tequila on the rocks or add a splash of fresh grapefruit juice, some lime, and grapefruit flavored sparkling water for a modified Paloma.  
To Start- 
Even though those chips & salsa are oh-so tempting, when you're watching what you're eating, its best to skip them. For a healthy alternative, try cut carrots or celery dipped in salsa or guacamole. Both options still pack a ton of flavor without compromising the crunch.  
Choose Ceviche or a small bowl of Tortilla Soup to start. Ceviche is a great option at most Mexican eateries. With plenty of vegetables & shrimp/fish, its packing both protein & flavor. Tortilla soup can also be a great alternative for a starter when dining out. Chicken, corn, avocado, black beans, and cilantro make this dish a flavorful alternative. To ensure you're making it diet friendly, make sure to get it without sour cream.  
Main Dishes- 
One of the great things about Mexican food is its versatility. When the ingredients come together, they create delightful flavors and luckily, very little is lost when looking for healthy alternatives. Think those burritos & tacos you love are out of the question? Think again! The great thing about both tacos and burritos is that its what's inside of them that makes them so delicious. Ditch the tortillas and shells-not the flavor. For your protein, choose grilled chicken or steak instead of ground beef or refried beans. Sub the tortilla/shell on your tacos for a lettuce shell instead or a low-carb tortilla. Get your burrito in a bowl instead of a tortilla. Instead of rice and beans on the side, ask for grilled or sauteed vegetables or even a salad.   
Fajitas are another great option for a main dish. Grilled to perfection and loaded with sauteed vegetables, this dish is sure to please any palate. To keep things on the lighter side, opt for lettuce shells instead of tortillas. Skip the sour cream and add a small serving of guacamole or salsa to enhance the flavor.  
Now that you've got the tools, its time to grab your sombrero & join in the fiesta!