Bariatric Surgery Support Groups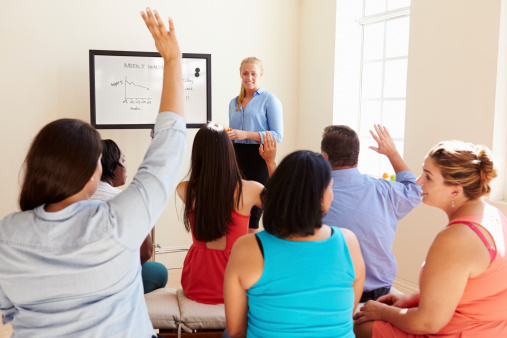 Bariatric Support Groups by Franciscan Center for Weight Management
CHI Franciscan Health offers free support groups for patients who are contemplating surgical weight loss or have had bariatric surgery. The support groups are a great resource to get to know other individuals who share experiences similar to you and provide on-going support for long-term success. Participants share experiences and answer each others' questions in a safe, non-judgmental atmosphere. Health professionals, including behaviorist, dietitians, physicians and physical therapists, attend these meetings on a rotating basis to offer guidance and up-to-date information. They welcome patients of any surgeon or hospital at any time, so feel free to drop-in!
For additional questions about the support groups, please contact their registered dietitians at the Franciscan Center for Weight Management at (253) 835-5514, menu option 2.
Upcoming Topic:
Federal Way (St. Francis) – Tuesday 1-2pm November 12, 2019

Topic: Wendy Rawlings, licensed counselor and bariatric patient

Lakewood (St. Clare) – Monday 6:30-7:30pm November 18, 2019

Topic: Wendy Rawlings, licensed counselor and bariatric patient
Locations and Directions
Federal Way at St. Francis: Conference Room on Ground Floor – St. Francis Medical Office Building

34509 Ninth Ave. S.
Federal Way, WA 98003
2nd Tuesday of the month, 1-2pm
Directions:

Traveling either north or south on I-5, take exit 142B to Federal Way.
The off-ramp will naturally force you out onto 348th Street. Continue through three lights until you reach 9th Ave South. You will cross over Enchanted Parkway and then Pacific Highway before you reach 9th Avenue S.
Turn right onto 9th Ave South and take the second left into the driveway. You will see a sign for St. Francis Hospital on the left just before you make the turn.
The Medical Office Building is Building B, just next to the main entrance of the hospital.
Upon entering the lobby of the Medical Office Building, walk to the right of the elevators and you will see a hallway with the conference room on the right-hand side.
Lakewood at St. Clare Hospital: Resource Center Classroom – Separate building across from St. Clare Emergency Department

4908 112th St. SW
Lakewood, WA 98499
3rd Monday of the month, 6:30-7:30pm
Directions:

Traveling either north or south on I-5, take the Bridgeport Way Exit (Exit 125).
Head west on Bridgeport Way SW.
Travel 0.7 miles and turn right onto 112th St SW.
Look for the maroon St. Clare Hospital sign several yards ahead and turn right into the parking lot. The Resource Center is a brick building with a parking lot in the back and in the front.
Enter the Resource Center through the front doors and walk down the hallway.
At the end of the hall, you will see the entrance to the Resource Center Classroom on the left.