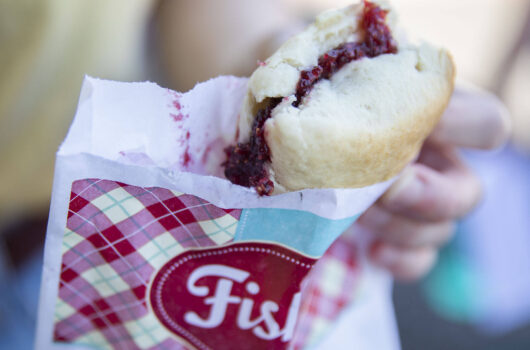 Fair Food Picks 
 Most of our staff agrees… some of their best childhood memories have come from attending the Washington State Fair. The carousel, farm animals, games of chance, and delicious "once a year" treats are all part of this magical experience. The following suggestions will help you make healthier choices while still savoring your time at the Fair.  
Tips before you go: 
Leave the guilt at home

– These foods are meant to be indulgent and deserved to be enjoyed without the side of guilt. This one day doesn't have to sabotage a healthy lifestyle. If you are following a weight loss plan, make sure you make the best choice possible, and have a plan to get back on track immediately.

 
Plan it

– Plan ahead what you're going to order. If you track calories and macros, decide what your "must haves" are and then pre-load them into your app.  You may discover that certain foods can still fit within your targets while others aren't quite worth the "cost in macros and calories". 

 

Avoid "Hanger"

– Make sure to fuel accordingly throughout the day with proteins and produce. This will help prevent overeating and/or binging. Bringing along a non-perishable protein snack can help curb cravings too.

 

Savor the moment

– Take your time to enjoy the treat you have chosen! Fair foods only come around once a year, so don't rush through the experience.

 

Sharing is caring

– Portion sizes these days are often enough to feed more than one person. Share favorite Fair foods so you can enjoy a variety without overdoing calories.

 

Stay hydrated

– bring your own water or favorite low-calorie beverage to quench thirst and aid satiety.
  Our Nutritionists' favorite picks: 
Pete's BBQ

 

Chicken – (limit sauce)

 

Brisket – (limit sauce)

 

Ribs

 

Roasted Corn

 

Big Island Poke

 

Stir Fry/Teriyaki

– (consider swapping rice for extra veggies)

Turkey Legs- a protein favorite!

 

Fischer Raspberry Scone

 

Strawberry Shortcake – share it!

 

Duris Elephant Ears

–

s

hare it!

 

Dole Whip in a cup

 

Beverages 

– choose low or non-calorie options

Earthquake's Biggest Burgers

– share it and maybe skip the fries
 Enjoy your time at our beautiful Washington State Fair. Indulge in a few favorite foods but remember… the real "treat" is all the new memories you're making with family and friends!