Exercising After Pregnancy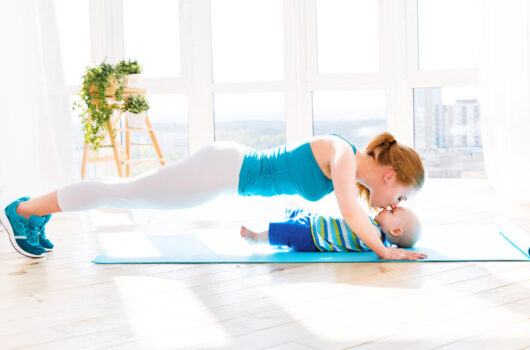 Post baby weight is an issue that many women struggle with after their pregnancy. As a mother of 2 young boys, Sara, Office Manager, knows firsthand the difficulties of juggling kids, taking care of the house, and working all while staying healthy. Read on for her tips and tricks to getting back in shape!
It's official, you've received the green light from your doctor to start working out after baby. But when will you find time, what will you do with the baby, what workouts should you be doing, and how exactly should you ease back into a routine?
Our bodies go through so much during those nine months and the thought of exercising can be intimidating, especially as a first-time mom who is still trying to get into the groove of having a little bundle of joy around. But have no fear, with a little dedication and determination, you'll be back into those skinny jeans in no time!
As women we often feel the pressure from Hollywood, the royals (seriously Kate Middleton, heels and a dress when leaving the hospital!?), and even other moms to snap back to our pre-pregnancy bodies within weeks of having a baby. But the truth is, it takes time. After all, it took nine months to gain the weight, so it's unrealistic to expect to lose it within a month. So how do you ease back into it, how do you find a routine that works for not only yourself, but for your little one too?
In my experience, nap time was my best friend. When my first son napped, I took time for myself by running. I started slow, running one or two miles at a slower than normal pace until I felt comfortable doing my normal seven miles at my regular pace. Exercising is such a great way to build up some extra energy (because let's be honest, there's not a ton of sleep happening those first few months), boost endorphins, and have some "me" time. As a mother of two now, I find that getting up before my boys (yes, it's quite early) is the best way to get my run in. There is something about waking up to a quiet house, getting my run in and feeling that energy throughout the day. It makes a world of difference and it's quite amazing how sluggish I feel if I'm unable to squeeze in some form of exercise.
If you've never had an exercise routine but carrying the extra baby weight is motivation for you to start one, start small. Don't overdo it. Start with walks around the block with baby, postnatal exercise videos, or consider joining a local mom fitness group! These can be great to meet other moms who are going through the same thing. With two small boys, some days the only option is to incorporate my kids into my workout. Hello squats with a twenty-pound baby! Exercising with your children can be a great bonding experience and it teaches them healthy habits. There are a ton of 'mommy and me' workout videos out there (my three-year-old really enjoys them on most days) and they're really great for easing back into exercising, as they're not terribly advanced. If you're a runner like me, purchasing a jogging stroller is a great option. This allows you and baby to get some fresh air and pushing a heavy stroller will make your workout a little more tough. If staying indoors and strength training are more your thing, using your newborn as a weight is a great way to bond with your baby and to also tone those arms and glutes! Just remember-take your time, set realistic expectations, and enjoy your workout!
When it comes to losing the weight, set goals. One thing that helped me was buying "goal clothes". I'd buy a shirt or a pair of pants that I really loved in a smaller size to motivate me. Seeing that shirt in my closet each day was motivation to get up, get the workout done, and to know that I was one step closer to fitting into that shirt or those pants. Having that motivation can be very helpful after those sleepless nights when the last thing you want to do is exercise.
Joining a mom's group or connecting with a friend who also has kids, can be great motivation too. Exercising with a friend is always more enjoyable and it also holds both of you accountable. My best friend and I had our first boys right around the same time, so it was nice to just take the babies for a walk and talk about the new struggles of motherhood. Of course, there will be times when baby needs a bottle or a diaper change, or is just fussy in general, but any exercise>no exercise. No matter what work out you did, or how long you did it, be proud of yourself for doing it!
Being a mom is tough. Not only are you trying to get back to feeling like yourself again, but you're still trying to figure out how to, well, be a mom. Taking care of yourself not only physically, but mentally will ensure that you're striving to be the best mom that you can be. Start slow, have fun with your workouts, find a friend to join you, incorporate your baby (and your other kids, too!), and don't be too hard on yourself. You just grew a human, and that, is an amazing accomplishment!
Below are some of our favorite resources to get you started:
Puyallup Fit 4 Mom Group: https://puyallup.fit4mom.com/
BabyFit Post Natal Workout Playlist by Amy Kiser Schemper, MS, CPT
Mommy and Me Workout Playlist by Amy Kiser Schemper, MS, CPT
TRAIN: Baby/Toddler & Me Workouts by Nancy Taylor
TRAIN: Postnatal Workouts by Nancy Taylor
Postpartum Exercise/Mom + Baby Workouts by LJ Kunkel, ACSMP-CPT