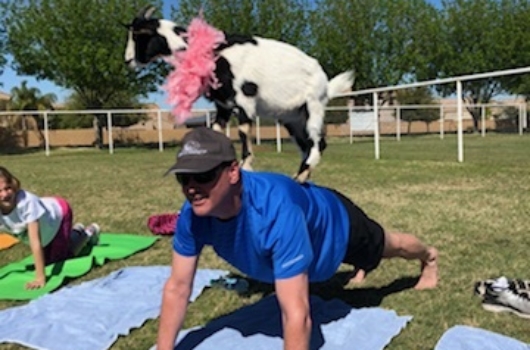 I was traveling with my family in Arizona and I was thinking about one of the most underrated but key aspects of losing weight and staying healthy… the idea of making this new lifestyle enjoyable! Take working out for example.  We know it raises our metabolism, increases our endorphins, and motivates us to stay on track with our eating but it's also one of the most difficult lifestyle changes to make as many of us do not particularly enjoy exercising for its own sake.  Yet science has shown over multiple studies that, especially for long-term weight loss, exercise is crucial to being successful.  So how do we reconcile this?  In my own experience, and I think the rest of the team here at HorizonView Health would agree, the key is to find an exercise program you enjoy and then find ways to keep that enthusiasm alive with a dynamic and varied regimen.  In my opinion, finding forms of exercise that you enjoy is far more important than finding a perfect work-out program.  In other words, the best exercise regimen for you is the one that you will commit to and do on a regular basis.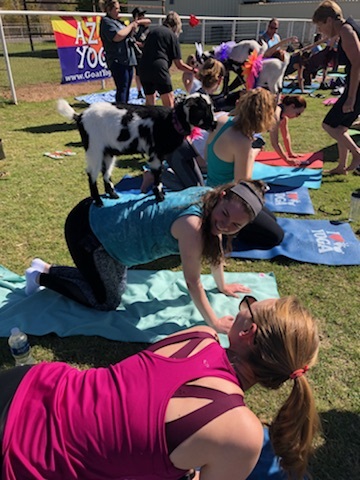 This was all on my mind when my oldest daughter signed me up for a goat yoga class in Gilbert, Arizona.  You must understand that I am not a goat yoga type of person.  But for the sake of family relations I went along.  For those of you who have not heard of goat yoga, it is simply your typical yoga class done in a field in the presence of… yes, goats.  If you know goat behavior, then you know these animals like to climb to the highest point available and in a field, that highest point would be you.  So, you are basically doing yoga while goats of various sizes climb on you.
I know you're thinking that this is a very weird way to exercise and an odd family activity, but it is a popular thing to do. Many engage in similar programs, such as yoga with cats.  I am not sure why this is the case, honestly, but from what I know of the exercise literature it makes sense that exercising alongside cute animals makes whatever we are doing that much more interesting and enjoyable.  That brings me back to my original point of being open-minded and looking for ways to have fun while exercising.  It is likely that you will need more than a goat yoga class or two to reach your fitness goals, but it's important to mix things up and try new things. If you look forward to the exercise, you'll actually do the exercise.  Having fun and breaking out of the routine will also give your regular work out, whether it be walking, swimming, rowing or resistance training, more meaning and keep things fresh. So keep doing those regular workouts but don't forget to think outside of the box (or goat pen) as the case may be.
Dr. Bruce Baker
Medical Director
To read more blog posts written by Dr. Baker, click here.
For those who are interested in having a similar experience closer at home (Sorry! None available in Pierce County)
Yoga With Cats (Seattle)
Yoga With Goats (Snohomish)
Yoga With Animals (Redmond) September 22 & 29 8:30am & 9:45am