All Natural Treats vs. Halloween Candy–What's the difference?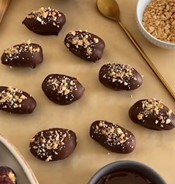 While calories count, not all calories are created equal. All foods can fit in moderation, even treats. The key, however, is to make sure that the day is saturated with nutrient dense quality calories around the treat. And since there are natural sweet treats that also provide some nutritional value, why not choose the treat that gives us more bang for our buck?
From digestion and gut health to mental health and balancing hormones – choosing whole food ingredients is important for our day-to-day well-being Considering there are Halloween candy temptations lurking in every supermarket this time of year, here is a healthy alternative to satisfy the inevitable sweet tooth with nourishing ingredients instead of high fructose corn syrup and preservatives.
"Snickers" Dates
Ingredients:
Medjool Dates
Peanut butter
Roasted peanuts, chopped
Dark chocolate
Instructions:
Cut each date lengthwise and remove the pit.
Smear some PB where the pit used to be and sprinkle a few chopped peanuts.
Close ingredients inside the date by pressing at the top.
Press a toothpick into date to help seal the goodies inside and for assistance when dipping.
Put the tray of stuffed dates in the freezer for 20 minutes.
Melt chocolate in the microwave at 30 second intervals and stir in between.
Dip each date in melted chocolate and transfer to a tray lined with parchment paper, sprinkle top with chopped peanuts.
Put in fridge until chocolate is firm.
Enjoy 1-2 as a wholesome candy alternative.
Nutrition Facts:
Serving size 1 date. Calories 150, Fat 6g, Carbohydrates 19, Fiber 3 grams, Sugar 19g, Added Sugar 3 grams, Protein 3 grams.
Recipe courtesy of @moribyan
Posted by Alexandra Cameron, CN